For the South Saint Paul High School Class of 1969.
(Send feedback to ssphs69@gmail.com)
Bernard Bongard
On 03/22/2015, Bernard Bongard passed away and was 64 at the time. Before moving to Bernard's last city of Lakeland, FL, Bernard lived in
LAKELAND - Bernard M. Bongard, 64, died 3/22/15. Burial will be in Florida National Cemetery. Steele's Family Funeral Services, Winter Haven.
Loren Bongard
Loren Bongard, 65, of Bradenton, passed away on August 14, 2017. He was born in St. Paul, Minnesota, to Lorna and Bernie Bongard. Loren proudly served in the U.S. Armed Forces. All services will be held in Minnesota.
Frank Bell
From the Minneapolis Tribune obituary, 1/7/2007:
Frank T. Bell, formerly of SSP, died 12/29/06. Preceded in death by mother and father, Esther and William Gaylord Bell. Survived by loving wife and daughter, Colleen and Annella; sisters, Mary Blomquist, Barbara Knudson, Sharon McNeely; and many family and friends who will miss him dearly. Celebration of Life on January 13th at Am. Legion Post 102, Anoka. Speakers-music therapy 1:00-1:30, reception/luncheon to follow.
From Barb Teed: "He lived across the street from me on Summit Ave. Nice guy..."
From Donna Mae (Trone) Sobaszkiewicz: Frank died "after a 7 year illness with kidney dialysis/kidney failure. His beloved wife, Colleen, passed away shortly after ... They are survived by their only child, Anne."
Bonny Lee (Grunewald) Broker
Age 56, of Turtle Lake, WI. Formerly of SSP. Services Thursday at Zion Lutheran Church, Turtle Lake, WI. Visitation Wed. at Skinner Funeral Home, Turtle Lake & 1 hr prior to service. Published in Pioneer Press, Oct. 2, 2007.
Danny H. Brill
Beloved Husband, Son Father & Grandfather. Jan. 1, age 58, of Inver Grove Heights. Survived by wife Birgit, 5 children Tanya (Tom) Heski, Robert Miklya, Sonya (Noah) Wagenknecht, Angela Brill & Ashley Brill; 4 grandchildren, mother Vera Cziok, brother Paul (Roberta) Brill; 3 half brothers, 2 half sisters & many nieces & nephews. Memorial Service 11AM Monday Jan. 7, at ENGLISH-MEEKER & KANDT FUNERAL HOME, SSP. Family will greet friends 9-11AM Monday. Interment Fort Snelling National Cemetery. Published in Pioneer Press from Jan. 3 to Jan. 6, 2008
Steven Jay Bloemers
'Rock', formerly of South St. Paul. Died Jan. 9th at his home in Hopkins at age 51. Preceded in death by father, Jay; and brother, John. Survived by mother, Pat & stepfather, Rudy Solomonson, of Siren, WI; brother, Mark (Karen) & sister, Mary Olson, all of South St. Paul; brother, Scott (Nita) of Havelock, NC; also cherished nieces & nephew, Ashley, Jonnie, Jessica & Derk Bloemers. Memorial service Tues.,  Jan. 14 at Washburn McReavy-Strobeck Johnson Chapel, Hopkins. With visitation 1hr before service. Memorials preferred to Vail Place, 15-9th Ave., S., Hopkins, MN 55343. From the Pioneer Press, 1/12/2003.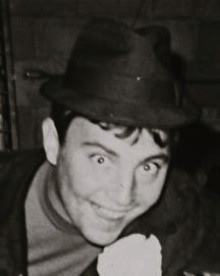 Miles Dennis Britz
Age 71 of South St. Paul, passed away peacefully surrounded by family and friends at his home on May 15, 2022. Preceded by mother, Emma Bernette; grandparents; & baby sister. Survived by father, James; loving wife of 49 years, Judith; sons, Charles (Tiffany) & Daniel (Heather); grandchildren, Xander & Audrey; sister, Darlys Ali; brother-in-law, William (Cheryl) Moehrle; Arlene Moehrle; beloved dog, Bogey; also nieces, nephews, other family & friends. Miles "Butch" loved to spend time with his Grandchildren. Aside from his passion for architectural design, he enjoyed spending time outdoors with his family and dogs at The Lake, and hunting and fishing. He was a flight nurse on C130's in the Air Force for 10 years. Memorial Service at St. Paul United Church of Christ, 900 Summit Ave, St. Paul, MN. Interment at Resurrection Cemetery, Mendota Heights. Published by Pioneer Press on May 19, 2022.