For the South Saint Paul High School Class of 1969.
(Send feedback to ssphs69@gmail.com)
Sheila M. (JERIKOVSKY) TSCHIDA
Sheila ended her earthly journey surrounded by her loving family on Oct. 2, 2017 at the age of 66. Sheila taught English & Speech for 40 years primarily in the South Washington County School District. Preceded in death by parents, Jacob & Joyce Jerikovsky; in-laws, John & Theresa Tschida; sister-in-law, Elaine Tschida; brothers-in-law, Gerald (Pat) Tschida & Rick Pracht; and niece, Meliah Tschida. Survived by loving husband of 36 yrs., Roger; sisters, Sue (Bob) Klingner and Kathy (Bob) O'Donnell; nieces, nephews, in-laws & many friends. Mass of Christian Burial 11AM Saturday, Oct. 7th at the CHURCH OF ST. JOSEPH, 1154 Seminole Ave. @ Butler in West St. Paul. Visitation 4-7PM Friday, Oct. 6th at KLECATSKY SOUTHERN CHAPEL, 414 Marie Ave. in South St. Paul & also 1 hr. prior to the Mass at church on Saturday. Memorials preferred. Private interment.
October 28, 2017
i had the privilege of teaching English with Sheila at Melrose and also directing her in a couple of community plays. In fact, her picture is in one play in the hallway of our performing arts center. God bless her family. Marit Elliot, melrose, MN
October 6, 2017
The best neighbor/friend anyone could ask for. She will be truly missed. Our prayers to the entire family. Bob& Dawn Quirk (and Annie). SSP, MN
October 5, 2017
My prayers go out to Roger, Sue, Kathy and all others close to Sheila. I'm grateful to have had the fortune of her friendship over the last many years. Our connection started with the simple exchange of me making her that first latte of many to come and her making a barista's day by being exactly who she was- a genuinely kind and respectful individual who walked through the world with endless positivity and obvious grace. Someone as special as Sheila will continue to impact the world byway of our full hearts and warm memories. A true gift she has given to anyone having had the pleasure of knowing her. I'll miss you, friend. Ty Barnett, Saint Paul, MN
October 5, 2017
Sure going to miss one of the worlds most caring,sweet, amazing people!!! Love and prayers❤to all. Cindy Butina, Cottage grove, MN
October 5, 2017
She was an amazing story teller! She made such an impact on all of us when she spoke at my daughter's 2013 graduation. She will be greatly missed. May she Rest In Peace. Caroline Loyd, Bentonville AR
October 5, 2017
Best teacher ever! we had a special bond with our heritage and South St. Paul roots. She made a great impact on my life and was always one of my favorite people. My prayers to her family. JOAN WOJTOWICZ, COTTAGE GROVE, MN
October 4, 2017
I very much enjoyed working with Sheila my last years at East Ridge High School. She was always kind and helpful to me. As a teacher she was second to none! She will be remembered by many and missed by all who has the opportunity to know her. Dennis Roos, former Principal in the south Washington County Schools. Dennis Roos, Vancouver, WA
October 4, 2017
I am saddened to hear the loss of such a caring and gentle woman. My two boys had her as an East Ridge teacher and she quickly became their favorite. Her love of teaching, her belief that all students were worthy and her ability to bring out the best in each were just a few of her many admirable traits. My you feel the love so many had for her and know that she made a difference not only in the lives of my sons but with hundreds and hundreds of other students! Darlene Wetterstrom
October 4, 2017
Completely heartbroken by Sheila's loss. She was not only the greatest teacher that I ever had, she was a friend. I will deeply miss our emails and coffee dates, her warmth and kindness, her funny stories and smile. Sheila was truly one of those special people set apart from the rest--she changed so many lives for the better--just as she changed mine. I will miss her for the rest of my life, and I send my love and condolences to her family and loved ones. Kara Tritz, Woodbury,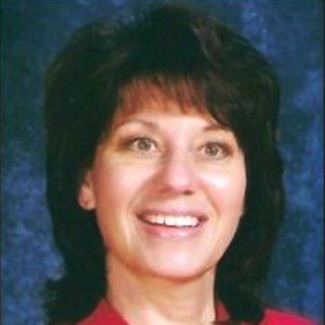 This picture [not available here yet] shows me with one of my nephews,  Jake Klingner, who is also a teacher and for the past three years we have been at the same school--Cottage Grove Junior High.  I still love teaching English, and next fall I will take the leap to go back to the high school as the new East Ridge High School opens.  It will be a new challenge for me: new curriculum, new age level, lots of technology to deal with, and new people.  I think I'm up for the challenge though. People have asked me why I don't retire.  I think I'll know when it's time, but for right now I still have something left to give to the kids and parents in District 833.
My husband Roger and I still live in South St. Paul and we have one well-spoiled cat who thinks she's a princess.  Although we don't have children, we enjoy doting on our nieces and nephews and remain close to both of our families.  My family lives very close by, and Roger's family is in the St. Cloud area, so we are blessed by being able to be active members in the lives of our siblings and their children.  Last fall I tried a new venture and did the flowers for my nephew Jake's October wedding.  Initially I thought it would be a great idea, but when I found out there were eight bridesmaids, I went into a slight panic.  No need. The bride and I bought tons of fresh flowers on Friday for Saturday's wedding. Once I was alone and working I had a great time creating some memorable bouquets.  I guess if the teaching gig gets old, that can be my next line of work.
I will look forward to catching up with some of you soon.
Sheila
Sheila's message to her classmates in 2009